Vienna Kayak Tour
Barefoot or flip flops are best during the tour, or any other footwear that you don't mind getting wet.
We have a storage room where you can keep your other things safe while we're out on the water.
All participants on the Vienna kayak tour must be able to swim. Life jackets (PFDs) are also available. You don't have to be a great swimmer, just don't sink immediately in case you fall in. If this comes as bad news, then check out our wine tour instead…
For more information, check out our FAQ
Guided kayak tour
Adult ticket (1-3 pax)
Live tour commentary from your certified open-water lifeguard & native English speaking guide
Single or double kayaks available, PFD/life vest, 10 litre dry bag, and waterproof phone cases all included
Sightseeing at various lakeside spots around the Old Danube, on Vienna's first & only guided kayak tour
Meet other international travellers & get insider tips on things to do in Vienna
Group discount
4-10 adults
Group discounts are applied directly on our booking calendar & checkout
For large group bookings of more than 8 people, please get in touch via email to discuss the pricing options
Live tour commentary from your dedicated lifeguard/guide & sightseeing around the Old Danube + tips on things to do in Vienna
Single or double kayaks available, PFD/lifevest & dry storage equipment
Private tours
max 5 people
Private kayaking tours available with either morning or afternoon start times (€459 or €399 respectively)
2.5 hour private tour of the Old Danube taken entirely at your group's pace
Single or double kayaks available, PFD/life vest, dry storage equipment, waterproof phone cases & live tour commentary
Engaging & intelligent lifeguard/guide, with included photo service of your group activity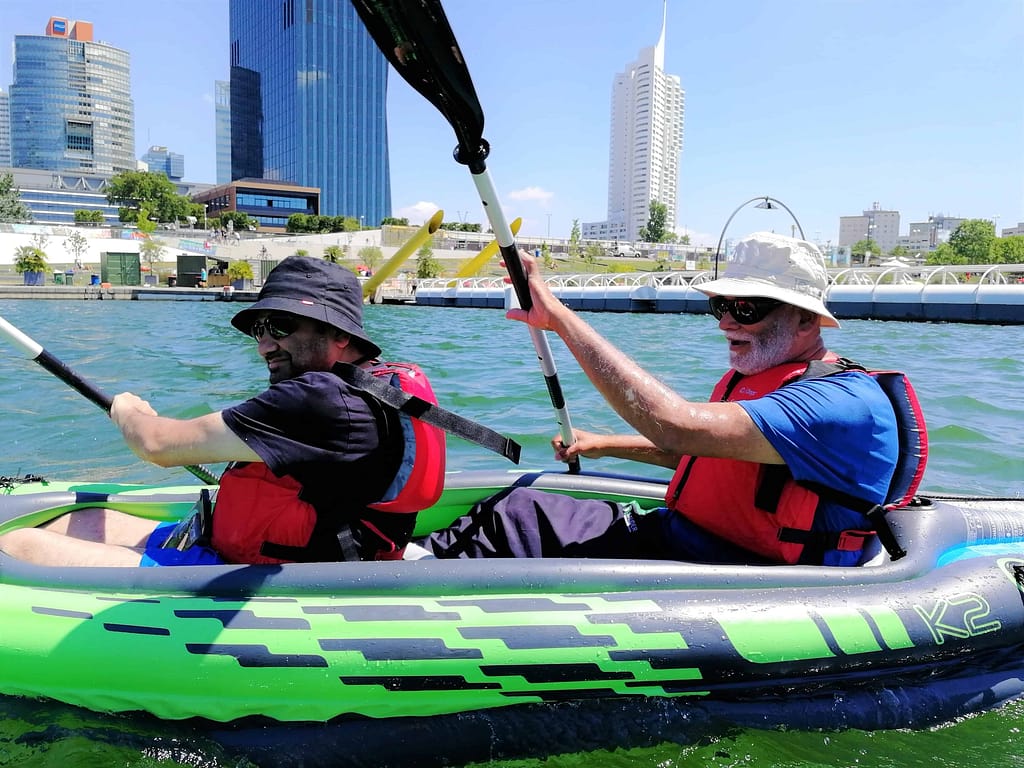 Tour start time - Meet, briefing & kayak preparation
We meet at the u-bahn (underground/metro) station 'Kaisermuhlen VIC' on the U1 red line (more details & map below). Please arrive here 5 minutes before the confirmed start time of your tour to avoid delays and to give us more time on the water! We then walk to our launching point (8 mins) to get set up with safety & dry storage equipment, and to go over basic kayaking technique.
On the water - The Old Danube
We'll be investigating the most relaxing part of Vienna, the Alte Donau; a lakeside village which was cut off from the main Danube channel in 1870. This is where nocturnal beavers now roam in an old side arm of the grand river. We'll see how Vienna maintains its long-established reputation as a center for diplomacy, politics and international relations as we paddle past the United Nations, along with several of the city's other most important contemporary buildings, which together are forging 'new' Vienna's emerging skyline. This is later contrasted with cute lakeside huts which adorn the water's edge to give vibrant bursts of colour to the lakeshore. You'll get loads of tips from us on things to do during your stay, all while making new international friends, getting some sunshine, and being active in the great outdoors!
In the water - Optional swim in the Danube
If it's hot, we can also pull up and take a short swim break in the clean lake waters. From May to September especially, the water temperature is perfect for cooling off while watching the slow-paced world of the Old Danube float on by! Expect to share the water with some rowers, the odd fisherman, and the local birdlife, but for the most part, we'll have it to ourselves.
Once the tour is over, you could keep investigating 'new' Vienna for a bit longer. Grab lunch or a cocktail at Vienna's nearby 'Copa Beach', swim and hang out on the Danube Island, visit Austria's tallest building – the Danube Tower, or explore the charming Danube Park, all of which are within easy walking distance from where we'll finish.