Is Santander worth visiting?
The realist's guide to a Santander city break
Welcome to Spain's geographically blessed, yet architecturally bereft underdog, Santander. The capital city of Cantabria on Spain's northern coast hasn't had the best of luck over the years, and as a result probably isn't the first destination that you think of when planning a city break to Spain. But why? Well, the old town burnt down in a huge city fire in 1941. The subsequent rebuild and the need to re-home thousands of people quickly and cheaply coincided with what was a truly terrible era for architecture (1950s – 70s), resulting in a pretty drab and functional city center, mostly devoid of the character and old world charm you find in most other Spanish cities (I know, I'm really selling this so far, eh?). Another point of difference, is that Santander is located on Spain's green coast, i.e the 'Costa Verde'. It's green because the city faces the north Atlantic and so it rains here a lot. On the surface, Santander doesn't immediately scream 'visit me', especially considering what it has to compete with in the rest of Spain. Yet, the city is massively popular as a tourist destination among the Spaniards themselves, so I went there to dig a little deeper. and to give my take on the what, where, how, when and why when posing the question: is Santander worth visiting?
Getting to & arriving in Santander
Santander airport is really close to the city center. It's a 15 minute bus ride, costing just 2.20 EUR each way. Look for the bright orange bus right outside the terminal door – you can't miss it. They leave approx every 45 minutes to the center. If the bus isn't already waiting there, then join whatever queue has formed. I thought I'd be smart and just get on at the last minute, but the bus got full, they didn't send another, and I was left to split a taxi into town with other like-minded fools. Not a big deal though, as the taxi only costs around 20 euro between us.
I imagine that many a ferry passenger has pondered whether or not Santander is worth hanging around in for a couple of days, before then driving straight off the ferry on their merry way to other destinations across Spain. Anyway…
Portsmouth to Santander sails twice a week on Monday and Friday nights at 21:30. The journey only takes 33.5 hours 😉 The two return crossings on Sundays and Wednesdays take around 28 hrs 30 mins. Full & updated schedule is here…
Plymouth to Santander on the other hand takes a mere 21 hours, departing in the afternoons on Sunday & Wednesday and returning on Monday and Thursday. Full schedule, direct from the horse's mouth here…
Unfortunately, train travel to Santander along the northern coast of Spain is pretty slow, so it's probably best to take a much quicker bus, which takes around an hour and a half. Check out the Trainline for full and up-to-date schedules.
Is Santander worth visiting? Eating...
The architecture might be a let down, but the food and drink in Santander does its best to make up for it. Loads of seafood and great pintxos, all set within a province (Cantabria) known for producing some of the best cheeses in the whole of Spain. Throw in a few glasses of wine from the nearby wine regions of Albarino and Rioja, then those 1960's utilitarian monstrosities really start to soften on the eye. We laboriously visited several of the city's highest rated locales to bring you our recommendations of where to eat here…starting with our favourite restaurant and then our suggestions for a tapas crawl through the city.
Querida Margarita: down to earth fine dining
If any restaurant reflects Santander's approach to building exteriors, then Querida Margarita is it. In any other city, this would be a restaurant massively under-minded by its laughably awful facade. But do not let this fool you, as the food here is fantastic, and extremely good value too. A wonderfully earthy pork jowel risotto to start, served with the obligatory Rioja Riserva, and closely followed by what you see pictured, including a SPECTACULAR cheesecake for dessert. This 3 course lunch on a Saturday afternoon, with a glass of wine, cost just 25 EUR per person. Frankly, if you're a bit tight arse (sorry, that should read 'appreciate great value'), QM is a must visit, especially if you have aspirations for Michelin level dining, while perhaps neither possessing the means nor the will to shell out for it. I found eating here to be somewhat of an antidote to all the bullshit, a refreshing alternative to be somewhere that so clearly assigns more value to what's real and inside, rather than an image, expectation or exterior. The team at Querida Margarita are on the verge of something great here, perhaps still working out a few minor kinks in service and depth of flavour, but I expect them to be hitting the big time soon, perhaps even getting their star. You can find them already in the Michelin guide.
Tapas & Pintxos in Santander - an itinerary
Intent on eating and drinking your way through Santander's best tapas bars? Here's our guide of where to go…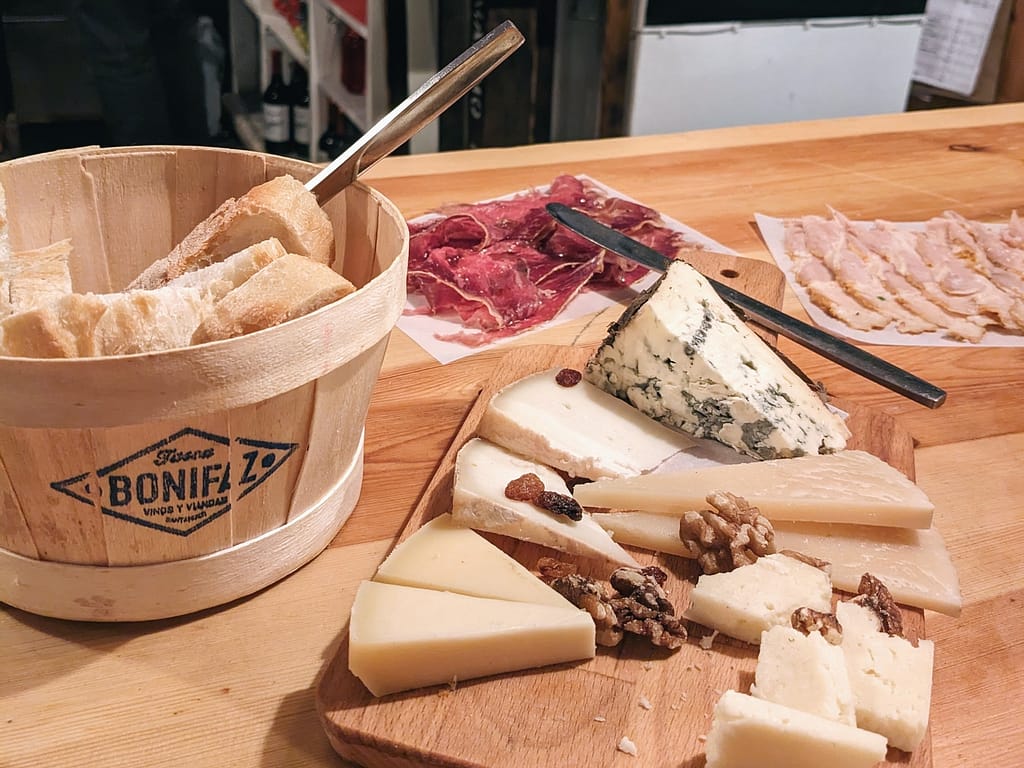 Santander city break tapas crawl...
1. Tasca Bonifaz: a Tabla de Quesos
Tasca Bonifaz is family run tapas joint about a minute's walk from the other two establishments on this list (La Mar and Bodega Fuente De). You can expect to find traditional mountain fare here, i.e lots of cured meats as well as several weird and wonderful Cantabrian cheeses. Vegetarians can get f@%ked (disclaimer: this is an unverified claim and probably would not represent the views of Tasca Bonifaz). The lady who runs it was extremely welcoming and friendly and she guided us with her personal recommendations for meats and cheeses from the region. What she brought out was really quite special. Must orders are the 'sudao' cheese, and the 'chicharrones de Cadiz' (sliced pork belly). Look to pair with either a Rueda (white) or a Rioja Riserva (red) wine for the complete Bonifaz experience. When in Rome, right?
Santander city break tapas crawl...
2. Something a little different: La Mar Oyster Bar
Going to Spain and not getting stuck into some tapas, or pintxos (pronounced pin-cho) as they are called in the north, would have been a crime. Equally, coming to Santander and not prioritising seafood gets you 10 years. It may be worth mentioning here that I went long on this, also sampling some pretty shady local specialities so that you don't have to. Anyway, nothing in this itinerary are any of those establishments, so let's get back to the good stuff, and our seafood suggestion…
On one of Santander's most lively night time streets you'll find La Mar Oyster Bar. Oysters from all over Europe are freshly shucked right in front of you (by one of the world's fastest shuckers no less – shucking hell!). They have a wide selection of French, Irish, Portugese and Dutch oysters to really get your libido flowing. Having taken advice from the owner, I opted for the French and Irish varieties (well, it was St Paddy's day after all), and I ordered mine with a glass of Albarino white wine, which is produced mostly in Galicia, a little further along Spain's northern coast. The oysters were lush, and paired incredibly well with the wine, so I would urge you do the same. a plate of four oysters and two glasses of wine came to about 10 EUR.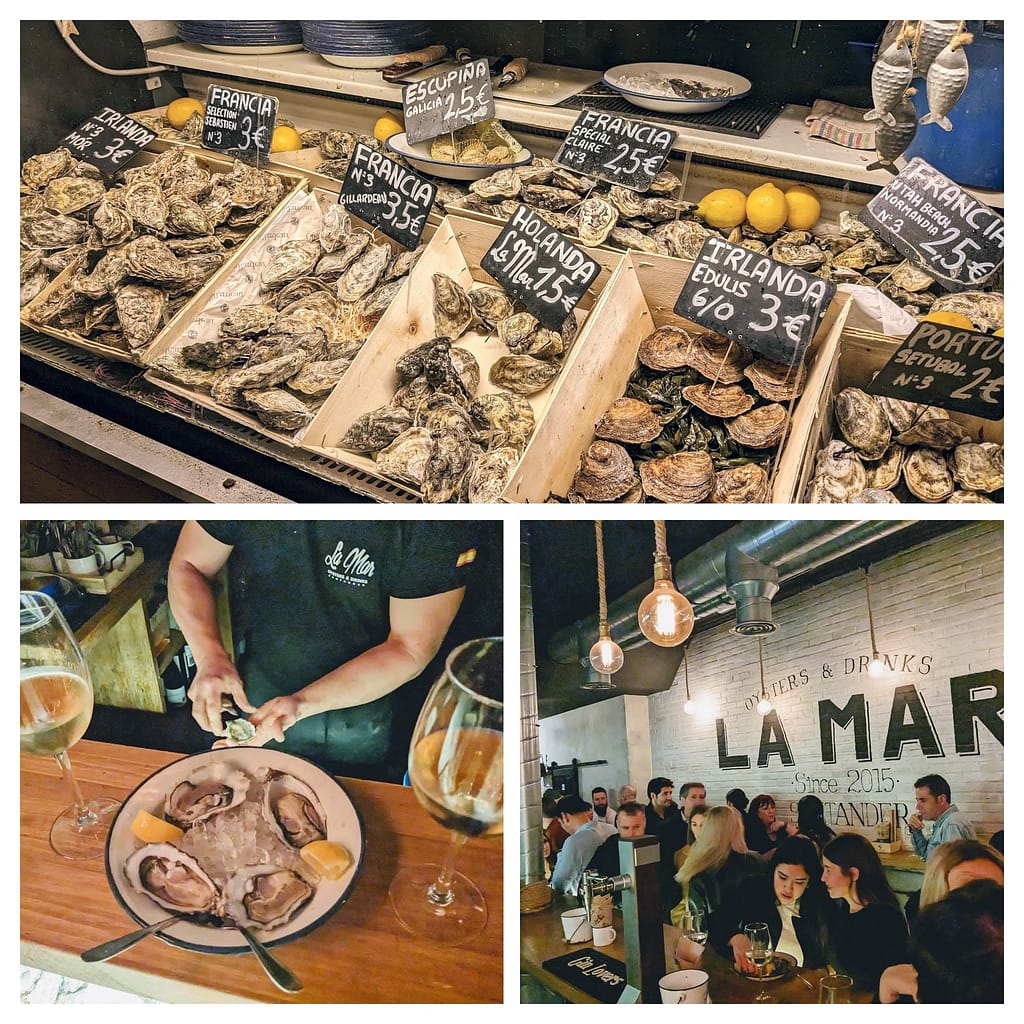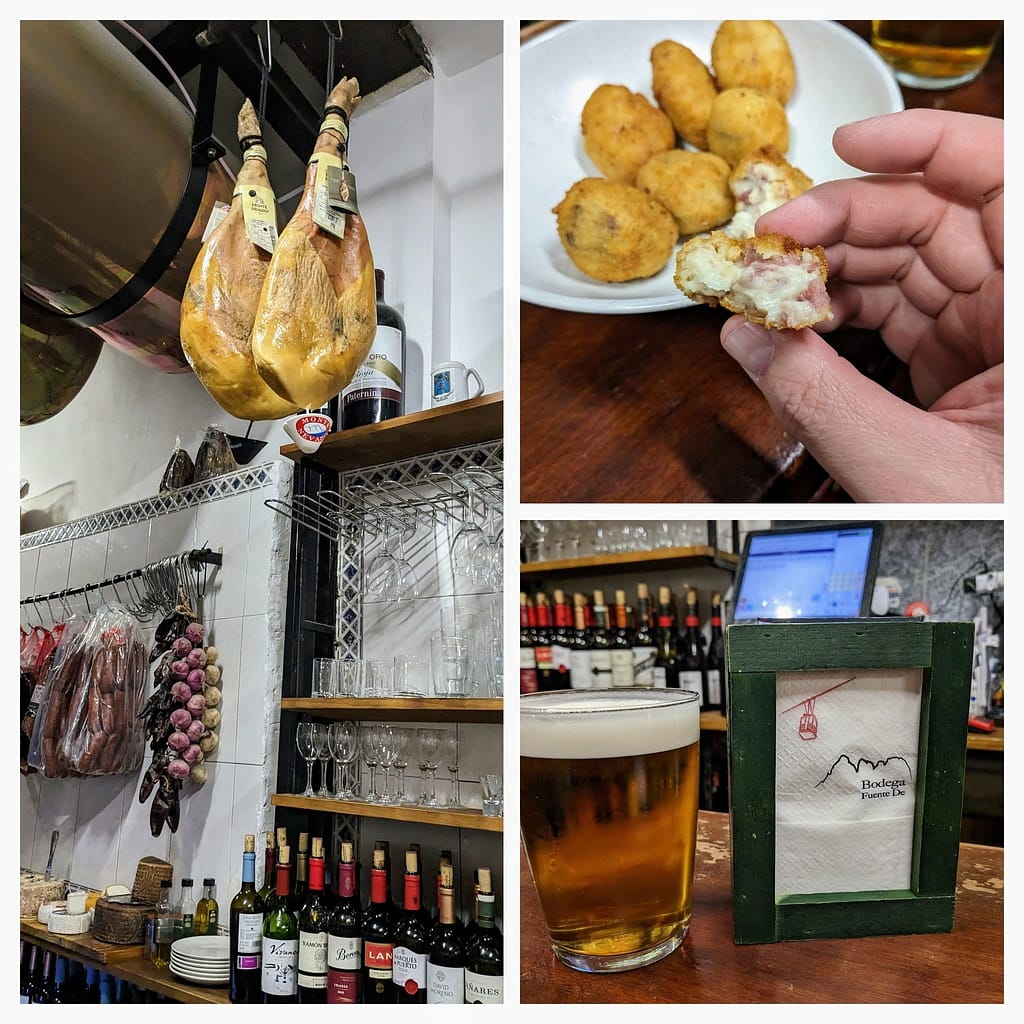 Santander city break tapas crawl...
3. Traditional tapas: Bodega Fuente De
A couple of shops down from La Mar on the same lively street, you'll find Bodega Fuente De, an extremely popular local institution, bursting at the seams with beer and vermouth drinking locals. Besides the must have tapas staples of jamón ibérico, tortilla etc, it was the potato croquettes that drew me in. I'm not sure why, especially as I associate them mostly with Napoleon Dynamite, but after having read so much about them in Bodega's trip advisor reviews they infiltrated my subconscious and became a must try. I therefore boldly headed off to sample the ham and cheese variety. Freshly fried, we were served eight of these little potato balls and very nice they were too – the perfect accompaniment to a beer and served in a very lively atmosphere full of locals of all ages. I don't think they quite merited all the trip advisor adulation, but they sat well enough in my ample stomach. When you picture a typical Spanish tapas place, this is it. Big portions, good quality freshly made national classics, fast service, right in the heart of the action, and very local. What more do you want? A beer, a vermouth, the croquetas, and some bread came to just 10.60 EUR. Nuff said.
The Santander polaroids...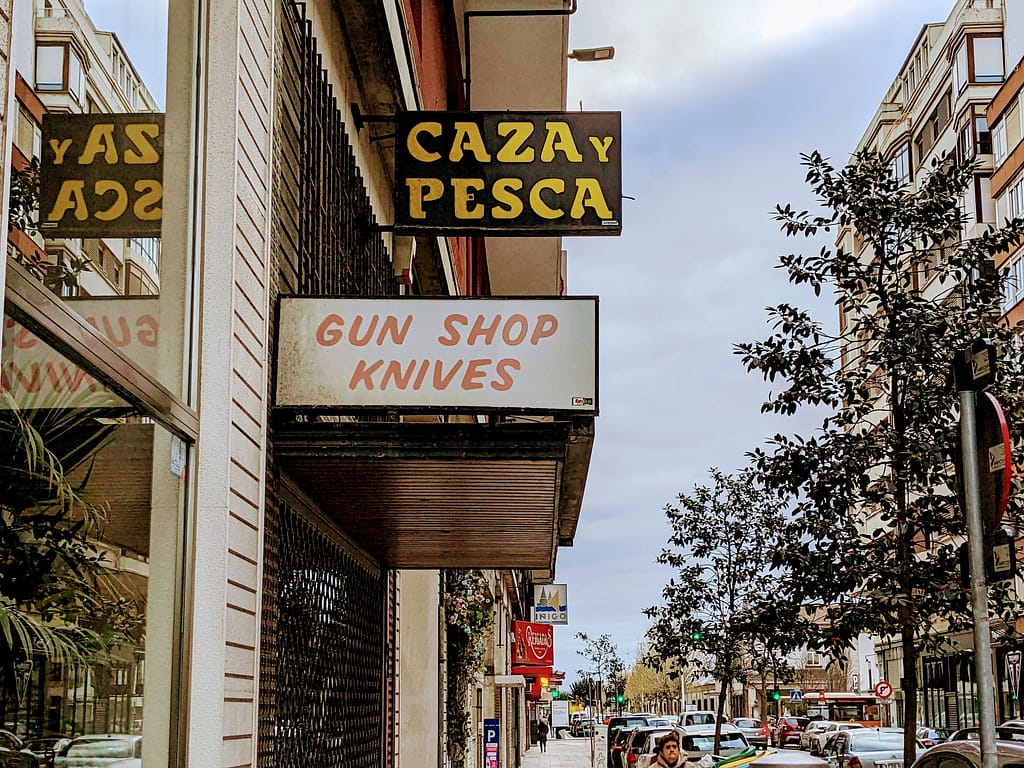 Is Santander worth visiting? Where to stay...
Santander has two main areas to base yourself: 1) the city center; 2) the areas close to its main beach 'El Sardinero'. Both can be reached easily from each other with a 20 minute walk, so if you like to discover a city on foot, then all of our suggestions below would suit you. If, on the other hand, you have a strong preference for being right in the center or next to the beach, then we give recommendations for both. Personally, I much preferred the general vibe of the city around the El Sardinero beach area and would choose to stay there on any further Santander city breaks.
City center hotel: Hotel Bahia
Hotel Bahia was erected as a beacon of hope in the aftermath of the great fire of 1941. In 1992, during extensive renovation works, it partially collapsed, killing several people, before being rebuilt to what it is today. This is the hotel equivalent of Querida Margarita, as no other building embodies the spirit of Santander, and its recent run of shitty luck, quite like Hotel Bahia. It's right next to the ferry port and Centro Botín cultural center, and you'll also be close to all the tapas bars and restaurants mentioned above. Being right on the bay's edge, Hotel Bahia has some truly wonderful sea views, while the city views aren't too shabby either.
El Sardinero beach: Le Petite Boutique Hotel
Situated close to Santander's main beach 'El Sardinero', Le Petite Boutique Hotel is a 10 minute drive from the ferry terminal. An adults only hotel, it has several themed rooms inspired by international cities including New York, Siena, and Tokyo. Cosy, locally run, breakfast served daily, and located in the most beautiful part of the city. If you're traveling without kids and you value quick access to the beach, then this is our top pick.
City center hostel: Santander Central Hostel
Located two minutes walk from the ferry port, and with the bus to the airport and the train station right on its doorstep, the Santander Central Hostel is perhaps this best located place to stay in the entire city. Colourful, vibrant, international and with great reviews – this is a great budget friendly option.
Surf beach hostel: Somo Surfskate Hostel
Somo Surfskate Hostel is located a little outside of town, in the Loredo/Somo surf area, to the east of the center. They offer surf classes as well as a mini half-pipe for traveling skateboard addicts, a slackline, and a huge garden to chill out in. Other option for surfers are also discussed below.
More Santander polaroids...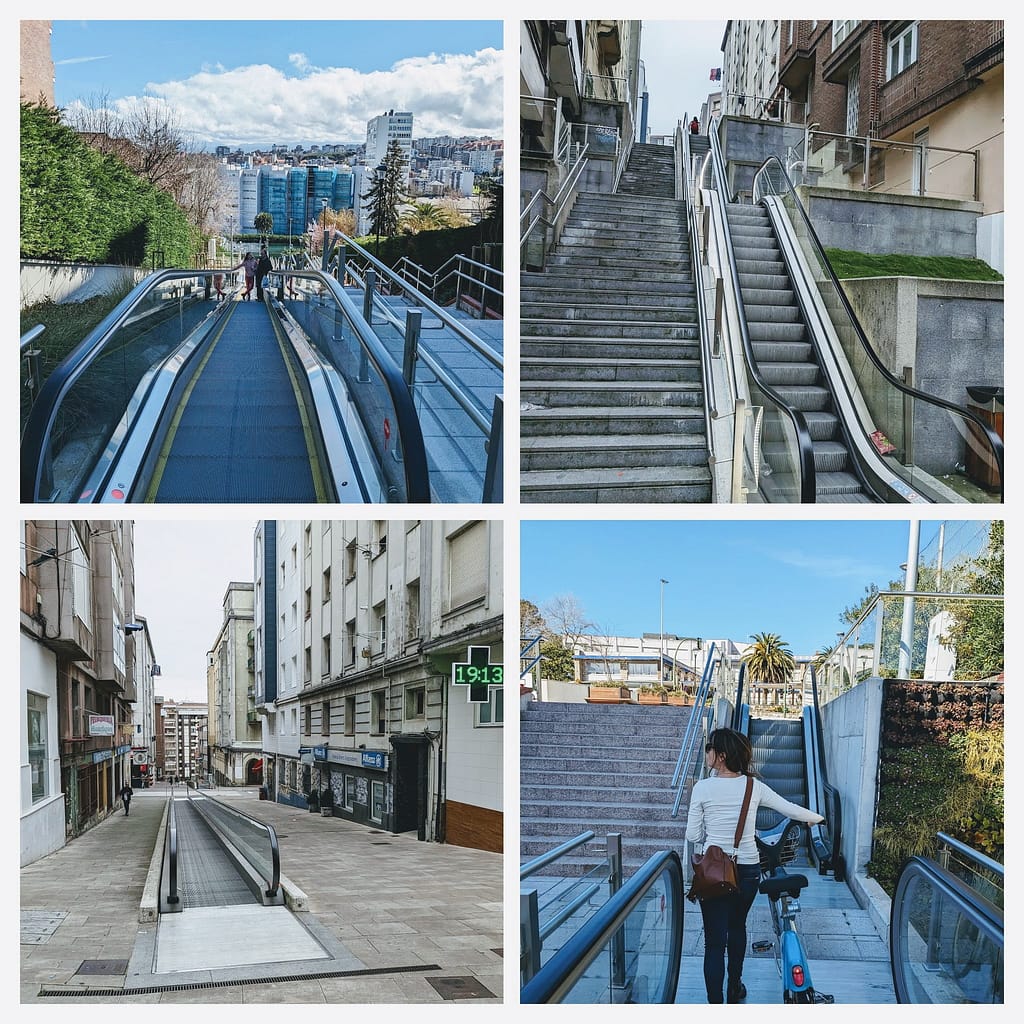 Is Santander worth visiting for a city break? Things to do...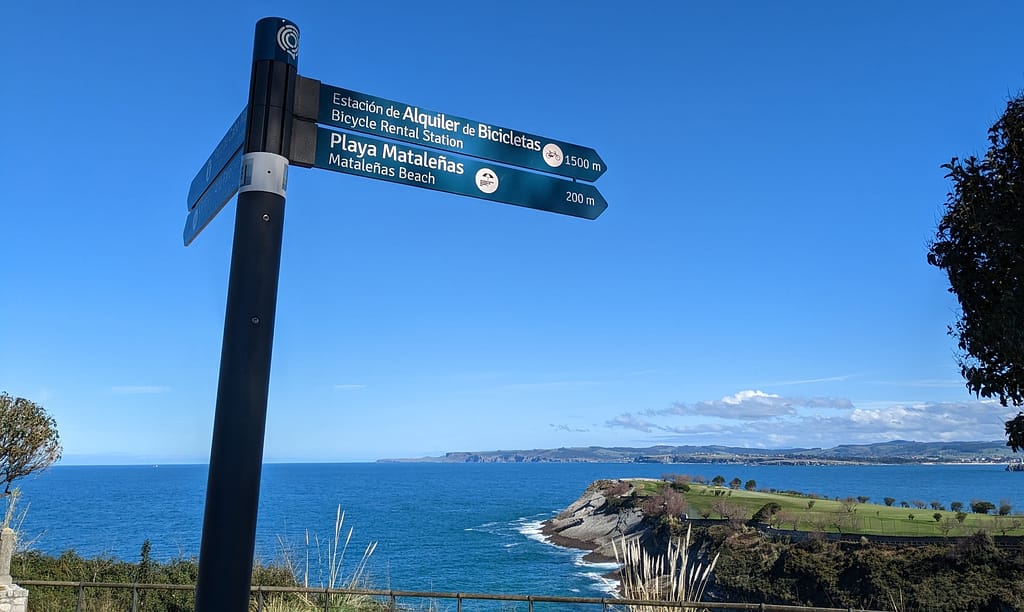 When I was researching things to do in Santander in preparation for my trip, I was pretty underwhelmed. If you look for a tour or activity on Get Your Guide, Viator or Airbnb experiences then most of what's on offer seem to be day tours which take you out of the city to a local cave or sardine factory! But this is crazy, because Santander bay is just beautiful, and there are so many potentially brilliant outdoor itineraries to create in this area. Personally, I'd be offering sea kayaking expeditions and tours of the bay, similar to the kayaking tour that I offer in Vienna. But, anyway…
Santander City Walking Tour
I did eventually find a city walking tour called 'Santander in flames' which was only offered in Spanish. Although the guy leading the tour was enthusiastic and clearly good at what he does, I found it to be too long (almost three hours), when I strongly suspect that it could have been around half that without affecting its quality or content too much (although my Spanish quite isn't what it used to be). I'm also not a big fan of standing up (largely motionless) in front of monuments for so long, although it is also important to note here that I may just be a lazy b@stard. I've never really understood historical walking tours, as I find them rather slow and a little boring, even when the content is genuinely fascinating and delivered in an engaging way, as our guide Hector did. For me at least, history, art, and architecture become far more interesting when combined with a bit of action. Santander still has so much potential for outdoor activities, so until someone starts offering kayak tours of the bay, here's what I suggest you do…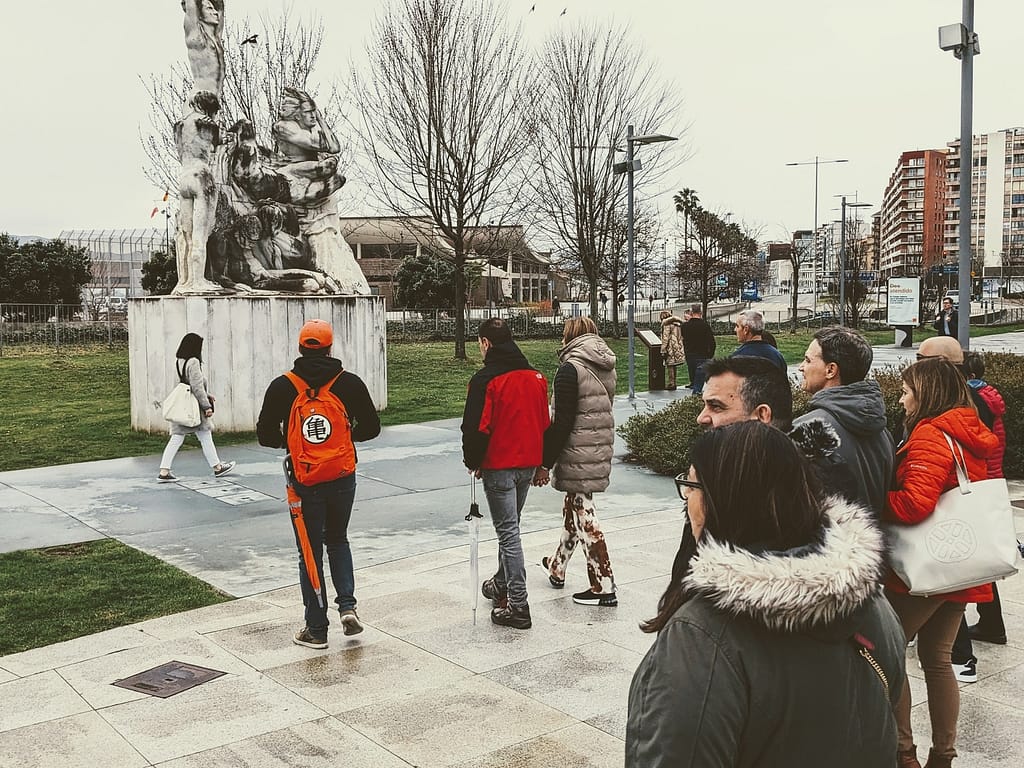 Santander makes for a great urban surfing spot, whether you're trying to stand up for the first time in the white water, or working on your technique as an intermediate. There are two main surf spots in Santander. The less reliable option is the city's main beach 'el Sardinero', which has a surf school and equipment rental. However, the swell here is pretty light and it gets crowded with other water users, especially in summer. Playa de Somo is generally regarded the better and more reliable surfing spot, for both beginners and improvers alike. Situated on the eastern side of the bay, it is a little outside of the center, which gives the area a more peaceful feel that appeals to many, including the international surf crowd who often stay nearby in one of the local surf hostels.
There are loads of good surf schools who teach at Playa de Somo, so if your trip to Santander is all about surfing, then consider staying at the highly rated Plea Beach House. They offer surf classes, equipment rental a yoga, loads of live music, skateboarding and other outdoor activities further afield. Alternatively, check out Somo Surfskate Hostel above. Somo Surfskate Hostel has a calmer, more tranquil vibe compared Plea Beach House, which is much bigger and always has something going on. Although we haven't yet stayed at either one personally, both look to be the best options for surf oriented budget travelers in the Somo/Loredo surf area, we wouldn't recommend them otherwise. For complete surfing beginners, or 'groms', you can also book a 2 hour surfing lesson on Get Your Guide.
Renting a bike and exploring the coastal paths to Parque de Mataleñas
Having a bike in Santander is what really opened up the city and its wonderful coastal paths to us. Without them, unless you hire a car or you're a prodigious walker, you'd be left with the false impression that Santander is merely its bog standard center alone, and that would be a great shame. There are loads of bike rental stations scattered around – we found one along the bay. These use credit cards for immediate payments and release of each bike, so you don't have to hand over any personal details or download any annoying apps to get hold of one. While not the lightest bikes, the ones we rented did the job, and were well maintained. Renting a bike was by far the best decision we made on our city break.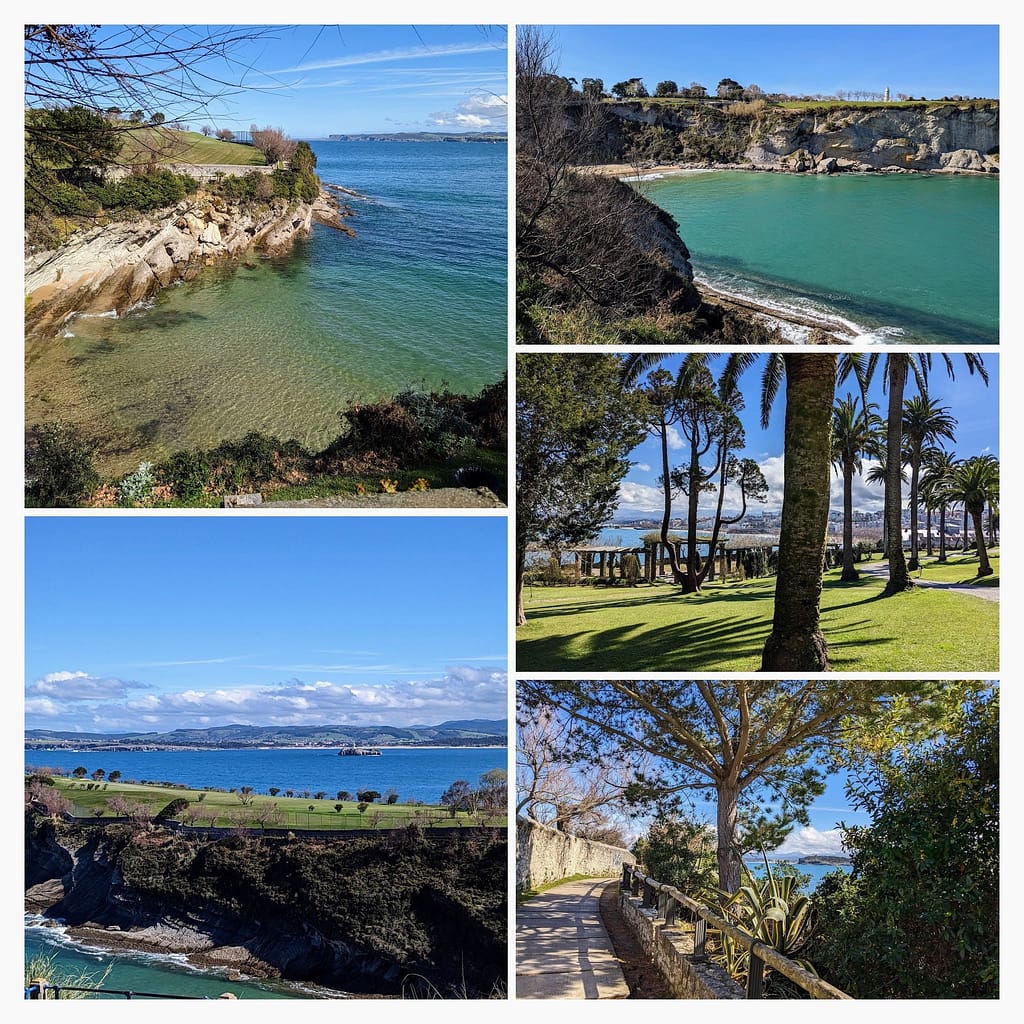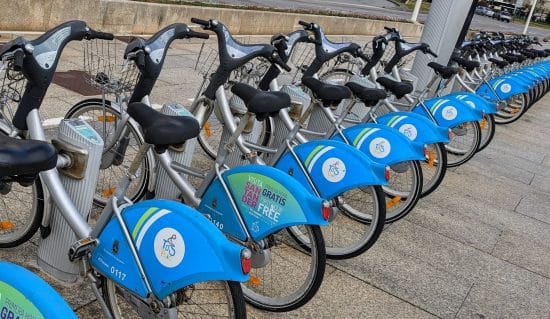 From Centro Botín in the center of town, grab a bike from one of the many on-street rental stations, and then head east along the bay's edge up past Playa los Peligros, towards the Magdalena peninsular. The bike path will then take you parallel with the promenade of El Sardinero beach. Follow it til the mini roundabout, then turn left, and then right at the next roundabout soon after. It gets pretty hilly now, but don't fear, because the good folk in Santander presumably faced the same daunting challenge, and thought "f&ck this" let's build a network of outdoor escalators to make this ride easier instead. So, as you veer right after the second roundabout, you'll soon see this mountain of metal and will easily be able to reach the top with your bikes. Once there turn right and after a minute or so you'll be at the entrance to the lovely Parque de Mataleñas. Ditch the bikes somewhere here (by ditch, I mean lock them up responsibly and leave them somewhere safe) and then join the coastal walking path at the beautiful but tiny Playa de los Molinucos. Follow this to the Mirador de Cabo Manor, and then around the promontory to Playa de Mataleñas – my favourite beach in Santander. When you're finished chilling out on the beach, head back the way you came into town.
If you get peckish or thirsty, then the nearby Golf Club Mataleñas serves food, as well as a bloody lovely San Miguel Radler, with just 2% alcohol, so perfect for light drink-riding days. I am rarely so immediately impressed with anything, but this beer was incredibly smooth, creamy, refreshing and delicious. Having watched them serve it very carefully before glass number two, they seem to areate it a lot, and while this appears to be incredibly wasteful, it certainly made for a damn fine beverage.
Cycle route to Parque de Mataleñas
My favourite beaches in Santander
Blessed to have so many good options, I totally get why Santander is so popular among Spaniards for their own summer holidays. The weather up here must be a welcome relief from the stinking Andalucian and inland Madrileño temperatures, and the beaches round these here parts are of the more rugged, natural kind compared with most others found along Spain's more famous mediteranean costas. My two favourites were Playa de los Peligros facing south east in the bay and the north facing Playa de Mataleñas.
Playa Peligros is sheltered, with calmer water and a really interesting view out to sea that includes mountains on the other side of the bay. At first, I found this to be really quite discombobulating, as I have always come to expect sea compressed under a blank horizon. I was therefore a little mesmerized (it seems weird to use 'a little' and 'mesmerized' together) by the unique and really quite beautiful views that the entire bay provided in fact. That most of the city center faces south, yet has sea & mountain views still triggers my inner GPS.
Playa de Mataleñas on the other hand, is situated in a little cove between two rocky outcrops, facing the Atlantic ocean to the north. I can imagine that, due to its relatively small size, this beach might get a little busy in the summer time, but in March it was almost empty. The fact that it requires a little effort to get to would probably keep away a large portion of the riff raff though. I certainly look forward to coming back here in summer and being part of the problem. Note: from here you can easily walk from the beach up to the golf club for a couple of those amazing San Miguel Radlers I talked about..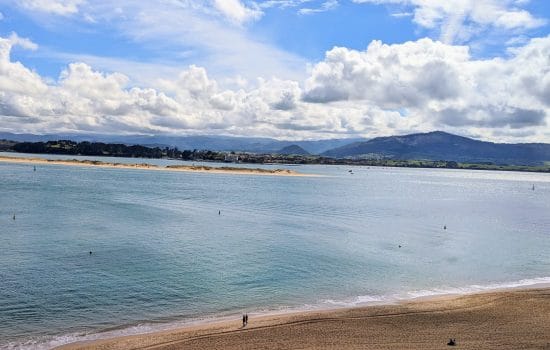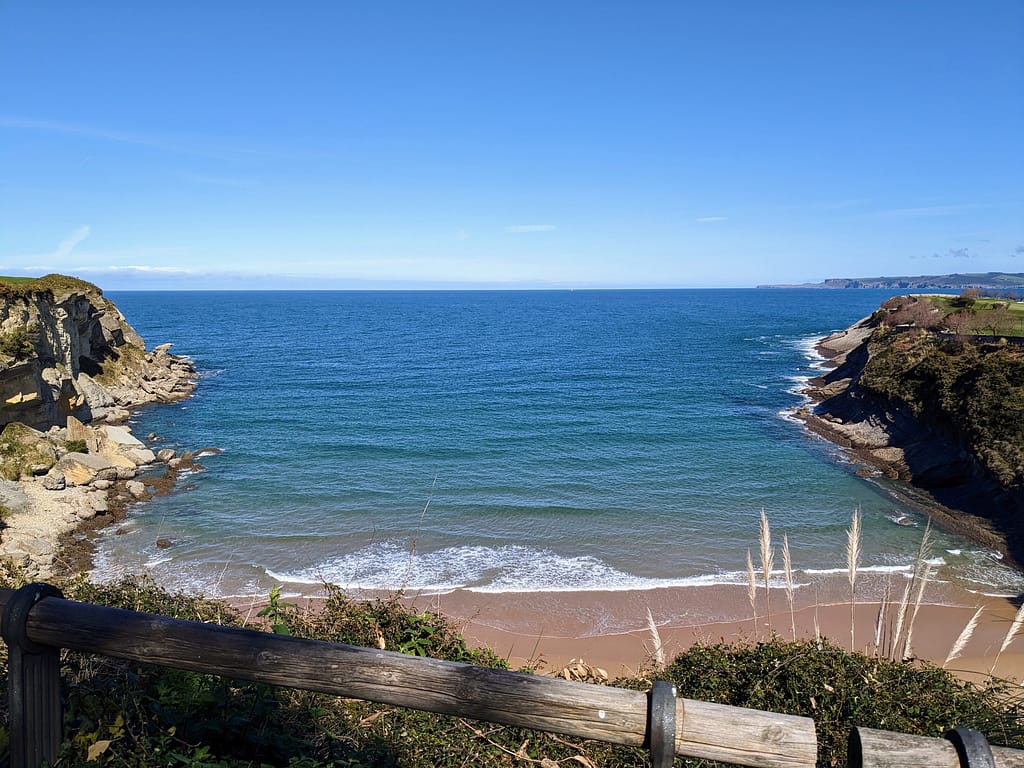 So, is Santander worth visiting? The verdict...
So, there you have it. My take on the city, and my recommendations for your own Santander city break. There's a lot to like about this place, especially if you treasure natural beauty and rugged coastlines and bays. Don't expect to be blown away by anything man-made though (apart from the food), because you just won't be. Given its natural beauty and easy access to such beautiful coastline, beaches and sea, I think that Santander still has so much untapped potential when it comes to outdoor activities. Somebody just needs to launch Venture Santander! What's clear though, is that the city itself doesn't seem to give a damn about what we think of it, as it gets so much domestic love anyway. So, here's to Spain's often ignored, rough around the edges, northern gateway. The eco friendly Brittany Ferries port that deserves more love. Hit me up if you have any questions comments or want to reach out in any way. Hasta la proxima, amigos!