The best ferry routes to France unveiled
They call us 'Le Rostbif' we call them arrogant, potato pomme, what is certain, however, is that when it comes to exploring Europe, there's something undeniably romantic and adventurous about traveling by sea. In this blog post, we'll help you to navigate the best ferry routes to France from the UK with Brittany Ferries, P&O and others. If you also wanna check out suitable holiday homes while you're at it then click here or if it's things to do in Normandy or in Brittany then click there! So, grab your passport and let's set sail!
How to choose the best ferry routes to France
What makes a ferry crossing 'better' than another depends on what is important to you. Be it proximity to your departure port, proximity to your final destination in France, or more importantly, what there is to do on the way there! That is the focus of this post, as we will cover the main highlights and things to do in Brittany, Normandy and the other main French ferry ports. If you're looking to find the best ferry deals to France and elsewhere, then I'd suggest booking with Direct Ferries, as they aggregate the best prices from all the main ferry operators, all over the world.
Before we get into the ferry routes to Brittany, lets first consider why we'd go there in the first place…
1. Historic towns: Brittany is dotted with charming historic towns such as Dinan, Vannes, and Rennes. Wander through their cobbled streets, visit medieval fortifications, and soak in the local atmosphere.
2. Coastal scenery: Brittany's coastline is spectacular. Explore the Pink Granite Coast (Côte de Granit Rose) with its unique pink-hued rocks, relax on the beaches of Quiberon, or hike along the rugged cliffs of Cap Fréhel.
3. Breton food: Brittany is known for its delicious cuisine. Try local specialties like crêpes, galettes (savory buckwheat pancakes), cider, seafood platters, and the famous Breton butter cake, Kouign-Amann.
4. Breton folklore and festivals: Embrace Brittany's rich folklore and traditions. Attend a fest-noz (traditional Breton dance), explore the Arthurian legends at Brocéliande Forest, and visit the Carnac Stones. Brittany also hosts numerous festivals, celebrating everything from Celtic music and dance to maritime traditions.
5. Watersports, hiking and cycling: Brittany's coastline offers excellent opportunities for watersports, including sailing, surfing, and kayaking, as well as offering a network of hiking and cycling trails, including the GR34 coastal path.
6. Visit quaint islands: Explore the islands of Brittany, such as Belle-Île-en-Mer, Île de Bréhat, and Groix. Each island has its own unique charm and offers a peaceful escape from the mainland.
If you're looking for a holiday home in Brittany then check these…
Ferry Crossings from the UK to Brittany
1. Plymouth to Roscoff: the original Brittany Ferries crossing to France!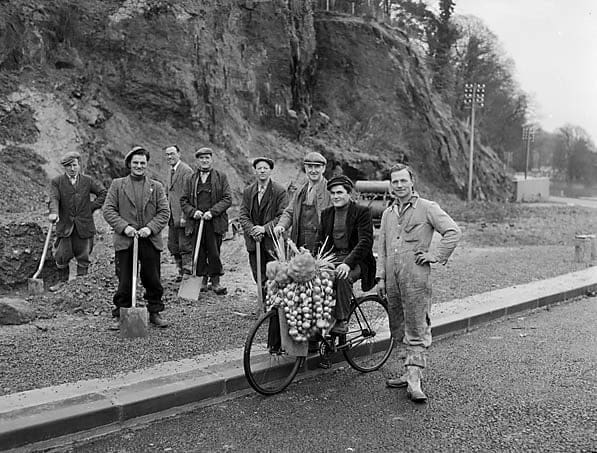 1. Coastal beauty:
Roscoff's shoreline is dotted with sandy beaches, rocky coves, and scenic promenades. Plage de Roc'h Hievec and Plage de Pouldavid are popular spots for sunbathing and swimming.
2. Thalassotherapy: Roscoff is a famous thalassotherapy (thalasso-what?!) destination, with several spa resorts offering a range of relaxation and wellness treatments using seawater and marine products. Apparently its a great place to unwind and rejuvenate.
3. The Roscoff Onion Johnnies: Yes! Now we're talking….the town is known for its Roscoff onion, a sweet and mild onion variety. Its onion sellers used to travel to the UK and literally peddle their wares from town to town on bicycles – hence the traditional image that many Brits have of French people with strings of onions around their necks! You can learn about the history of onion farming in the region and the onion johnnies at the Maison de l'Oignon. I'm in!
6. Ile de Batz: Just a short ferry ride from Roscoff, Ile de Batz is a small, car-free island known for its beautiful gardens, sandy beaches, and relaxed atmosphere. Explore the island on foot or by bike and enjoy the peace.
8. Seafood: Roscoff is renowned for its freshly caught fish, scallops, and lobster. Fruix de Mer anyone?!
2. Portsmouth to St Malo: the 'Pearl of Brittany'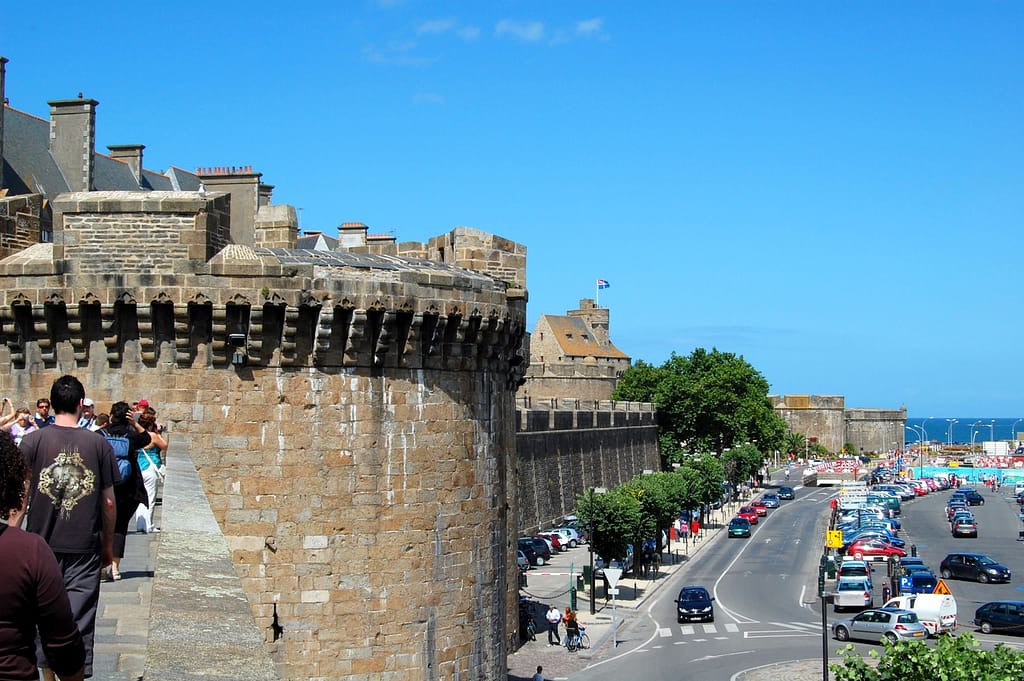 1. Historic walled city: The heart of Saint-Malo is its walled city. Enclosed within sturdy ramparts, this charming old town is a maze of cobbled streets, medieval buildings, hidden squares, and intricate alleys.
2. Beaches: Saint-Malo boasts some of the most beautiful beaches in France. The main beach, Plage de l'Éventail, is known for its golden sands and is perfect for sunbathing, swimming, and water sports.
3. Maritime museum and Jacques Cartier's house: the Maritime Museum (Musée d'Histoire Maritime) offers a look into the lives of sailors, pirates, and explorers who once called St Malo home, while those interested in the life of explorer Jacques Cartier, credited with discovering Canada, can visit his old gaff an all!
4. Food: Saint-Malo is a haven for seafood lovers – fresh oysters, moules marinières (mussels), and whatever else you can imagine from the sea, at the city's many restaurants and bistros.
5. Dinard: Just a short ferry ride across the bay from Saint-Malo, Dinard is known for its Belle Époque architecture, upscale resorts, and beautiful gardens.
Again, before we get into the available ferry routes to Normandy, lets also consider why we'd go there in the first place…
Honfleur: This charming coastal town is famous for its picturesque harbor, historic architecture, and vibrant arts scene. It's a favorite destination for artists and tourists alike.

Bayeux: Home to the Bayeux Tapestry, which depicts the Norman Conquest of England, Bayeux is a quaint town with a rich historical and cultural heritage.

D-day beaches: Normandy is of course famous for the D-Day landings of World War II. The beaches of Omaha, Utah, Juno, Gold, and Sword are where Allied forces launched their invasion of Nazi-occupied Europe. There are several museums and memorials that commemorate this historic event.
Mont Saint-Michel: This breathtaking island commune is a UNESCO World Heritage Site. It features a stunning medieval abbey perched atop a rocky hill, surrounded by tidal waters. Mont Saint-Michel is one of France's most iconic landmarks.
Food and drink: Normandy is renowned for its apple orchards, and it produces some of the best cider in the world – typically sparkling and served in glass bottles like fine wine. Calvados is a famous apple brandy produced in the region and other local specialities include Camembert, loads of fresh seafood, apple-based dishes, and creamy dairy products.
And if you're looking for a holiday home in Normandy then have a look here…
Ferry Crossings from the UK to Normandy
1. Portsmouth to Caen: the gateway to Normandy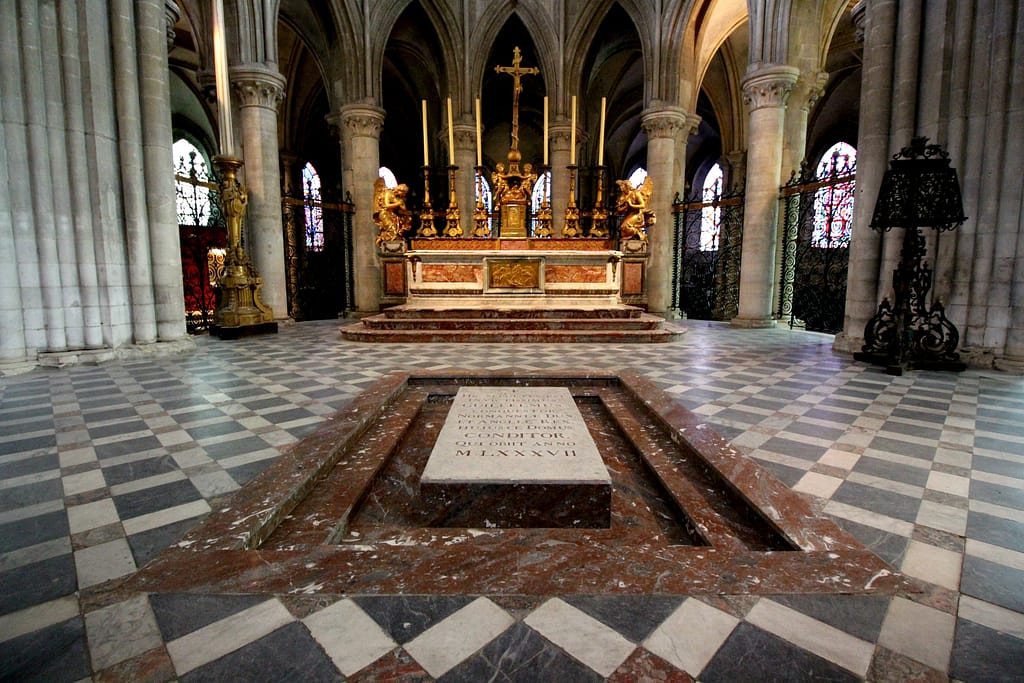 1. Historic Caen: Caen is a city with particular historic significance, known for its role in the Norman conquest of England. It was founded by William the Conqueror and became the ducal and royal capital in the Middle Ages. 
2. Visit the abbeys: It is home to two impressive abbeys: Abbaye aux Hommes (Men's Abbey) and Abbaye aux Dames (Women's Abbey). The former is the burial place of William the Conqueror.
3. Caen Castle, or the 'The Château de Caen' is a formidable medieval fortress and one of the city's most iconic landmarks. It also houses the Museum of Normandy.
4. Caen Memorial – Museum for Peace: This renowned museum provides a comprehensive look at World War II and its impact on the world. It focuses on the quest for peace and understanding among nations.
5. Wander round innit: the Vaugueux district is a charming, historic area filled with narrow streets, bustling cafes, and a lively atmosphere. You can also check out Caen's thriving street art scene, exploring the city's colorful murals and graffiti art.
2. Poole & Portsmouth to Cherbourg: a taste of the Cotentin Peninsula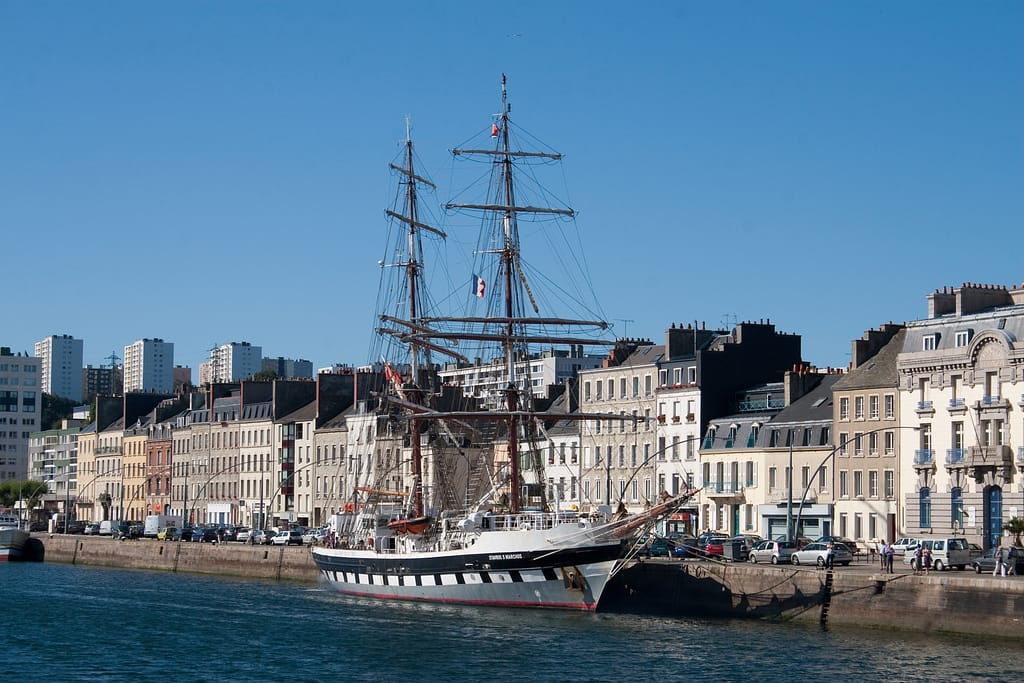 1. Cherbourg harbour: The city is renowned for its expansive and deep-water harbor; a bustling hub with fishing boats, ferries, and pleasure crafts. It's a good spot for a leisurely stroll along the waterfront.
2. Cité de la Mer: One of Cherbourg's top attractions is the Cité de la Mer (City of the Sea), a fascinating maritime museum housed in a former transatlantic ocean liner terminal, with submarine exhibits, Titanic artifacts, and a massive aquarium showcasing marine life from the depths of the ocean.
3. Fort du Roule: Perched on a hill overlooking Cherbourg, Fort du Roule is a historic military fortress with tunnels and artillery installations that offers panoramic views of the city and harbor.
4. Liberation Museum: Cherbourg played a crucial role during the liberation of France in World War II. The Liberation Museum (Musée de la Libération) tells the story of the city's liberation and the events leading up to D-Day.
5. Day Trips: Cherbourg serves as a gateway to the beautiful Cotentin Peninsula and its scenic landscapes. Potential day trips include: Barfleur, Gatteville lighthouse, and the stunning cliffs of La Hague.
3. Portsmouth to Le Havre: UNESCO World Heritage modernism
1. UNESCO world heritage site: Le Havre's city center, redesigned and rebuilt after severe damage during World War II, by architect Auguste Perret, is characterized by its use of concrete and rationalist design principles.
2. Musée d'Art Moderne André Malraux: Often referred to as MuMa, this museum houses an impressive collection of impressionist and post-impressionist paintings, including Monet, Boudin, and Dufy.
3. Jardins Suspendus (Hanging Gardens): These beautiful gardens overlook the city and harbor, providing an escape from all that concrete.
4. Port of Le Havre: As one of France's major ports, Le Havre has a bustling harbor where you can observe the comings and goings of cargo ships and ferries. You can also take boat tours to explore the harbour.
5. Etretat and Honfleur: Le Havre is an excellent base for day trips to nearby attractions like the stunning cliffs of Étretat, known for their dramatic beauty, and the picturesque harbor town of Honfleur, famous for its charming old port.
So, which is the best ferry route to France?!
Of course, this totally depends on what you're into, and where you're heading to and coming from. Personally, we love a bit of cider and history here at Venture Travel, and also a delightful reminder of our childhood holidays over to France, so Le Mont St Michel in Normandy would be our first recommendation, especially considering its proximity to the D-day beaches and memorials. Best port of arrival would be Caen. You can't go wrong with Roscoff or any of these other destinations though, as all are either beautiful in their own right or close to other stunning towns like Morlaix, Bayeux or Honfleur.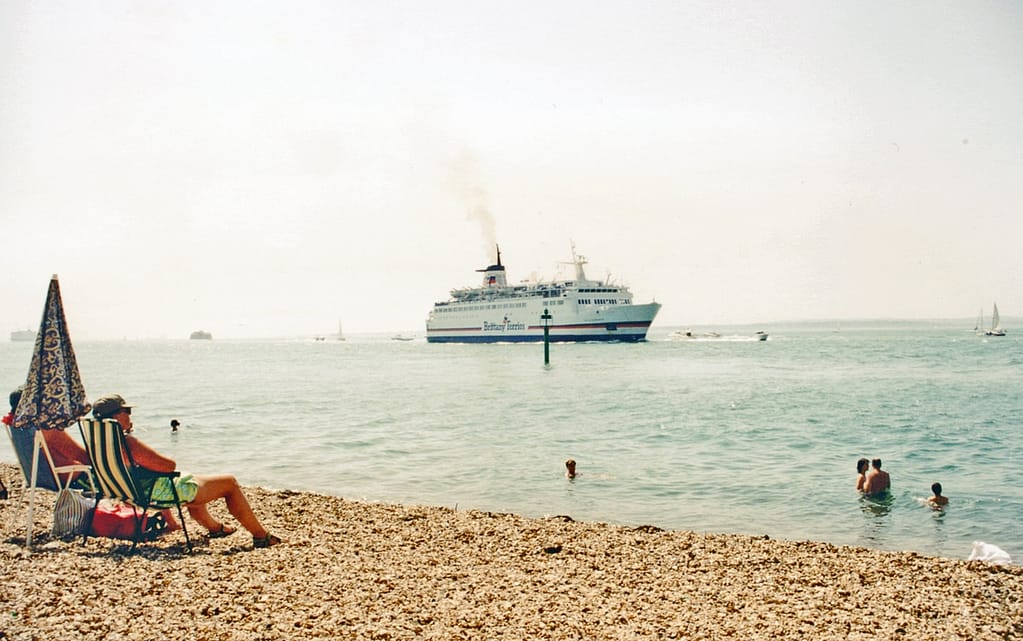 The diverse range of ferry routes to France allows travelers plenty of time to discover the beauty, culture, and cuisine of the Gallic country. It's genuinely slow travel, much better for the environment compared with flying, and a bit of a return to the good old days! The northern regions of Brittany and Normandy are some of France's most famous and beautiful, and both punch well above their weight culturally and gastronomically. So, whether you wanna get lost in the rough and rugged northwest in Brittany, or you choose to explore the historic charm of Normandy, Direct Ferries has a route to suit you, just make sure you've got everything covered in terms of travel requirements too. So set your course and get ready for an adventure filled voyage of French discovery. Bon voyage!