The best art hotels in Vienna to fall in love with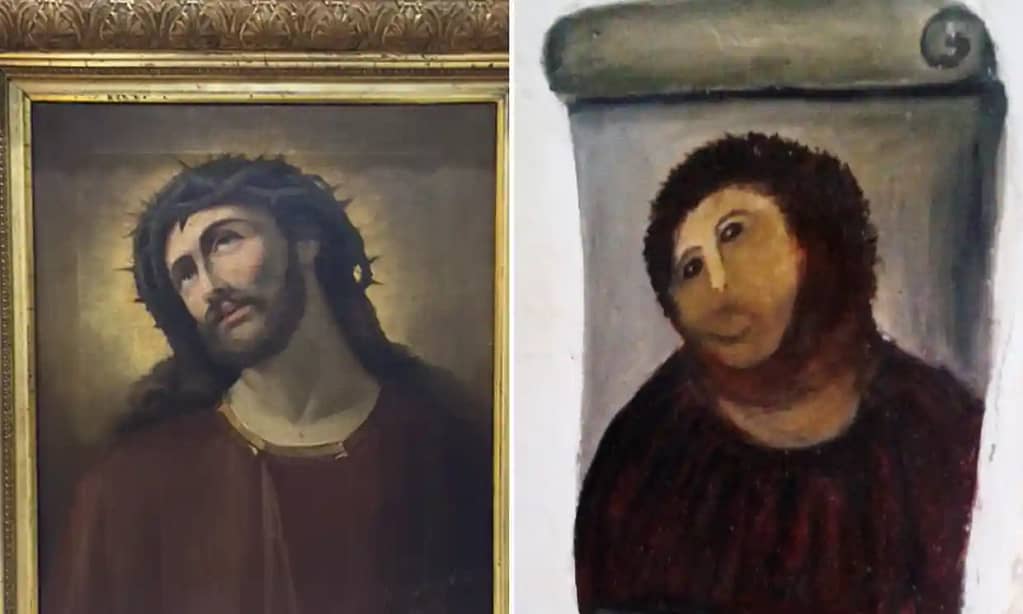 Art is subjective. For proof, just look at the bloody great mess a well-meaning Italian lady made of restoring this classic old painting of Jesus. In light of this, when selecting which boutique hotel in Vienna to rest your weary bones in, it may be helpful to read this astoundingly informative guide, which may help you narrow down the field to something more to your taste. Yes, here comes another of those arbitrary top 5 lists, in this case it's art hotels in Vienna. From art nouveau, to art deco, to Falco. And, in a desperate attempt to claw back some actual benefit from researching and writing this, I've included text links for each of these hotels in the vain hope that some of you will click on them and make a booking almost immediately before the cookie runs out, so that I then get about 20 cents. Despite the obvious temptation to be corrupted, my recommendations are entirely unbiased and independent. The only thing that matters is quality, individuality, and bringing you something a little different, away from all the big hotel chains and the usual corporate crap. Our top 5 list of boutique hotels in Vienna runs roughly in price order, from most expensive to least.
The Best Art Hotels in Vienna - our top 5
the classy choice, very large art collection, 7th district
They (Hotel Altstadt, of course) say that Hotel Altstadt is where 'Warhol meets Prachensky'. This, however, may not be mere hyperbole, as this hotel was in fact originally opened as an art galley, just with accompanying rooms. Most of its vast collection of contemporary art is either on loan from museums or comes from privately owned collections. The hotel is so confident in its overall aesthetic that it offers guided tours for non-residents who come to see its diverse interpretation of Viennese style. In terms of room design, the hotel has worked with some of Vienna's more renowned architects, designers and artists, as well as those from its up and coming generation. Each designer offers their own interpretation of Viennese hospitality or 'gemutlichkeit' in the hotel's 62 individual rooms and suites. From a room that's decked out in vibrant pink to one in inspired by Mozart's music, each room is as individual as the guests it houses.
Breakfast at Hotel Altstadt is gratefully available until 11:00 on weekdays and 11:30 on weekends, allowing for a proper lie in. Afternoon tea is also a big deal here, with a range of teas, homemade cakes, as well as a sweet (candy) bar available for guests between 4-6pm every day in one of their salons.
Between May-September the hotel's rooftop terrace can also be enjoyed, while the hotel's 'Red Salon' is home to its in-house bar. Hotel Altstadt is located in the trendy 7th district, in an area called Spittelberg (think narrow cobble-stoned streets, and cute low storey (1 or 2) houses). Spittelberg is also home to one of Vienna's more unique Christmas markets, popular with locals.
2. Small Luxury Hotel Das Tyrol
Viennese fin de siecle charm, if you like gold things, has a pillow menu, 6th district
If you're looking for a unique luxury experience, the very specifically named Small Luxury Hotel Das Tyrol nails it. This hotel has an undeniably Viennese influenced design that will certainly make you feel all art nouveau. The rooms are spacious and for the most part tastefully decorated, with designer furnishings featuring plenty of gold leaf. There is luxurious bedding, including the aforementioned pillow menu – "ah yes, I'll have the 95% goose down with the red wine jus…"). The hotel's wellness area and private spa is arguably its main highlight, with a sauna, steam bath, and fitness room, perfect for unwinding after a long day of exploring the city.
Rather than preaching to the converted, the hotel owners believe that art 'doesn't belong in museums' and is thus better displayed in their hotel. As such, you'll find loads of contemporary artwork scattered liberally throughout Das Tyrol, giving a further touch of flair and design to pair with its lavishly ornate furnishings. For some this may be a little too much, but for others Das Tyrol is a true feast for the senses, one which proudly pays homage to the mood of the Viennese secessionists of the early 20th century. Throw in a concierge service, a very cool hotel bar, and a great location close to the Naschmarkt, and the Small Luxury Hotel Das Tyrol ticks a lot of boxes for a lot of people.
1920's art deco, somewhat surreal, 6th district
Located in Vienna's 6th district, close to all the action, the Josefine Hotel has typically high ceiling(ed) rooms with herringbone wooden floors, just as you'd expect from a classic Viennese 'Altbau' (old i.e pre 1953 building). In terms of unique features, there's an honesty bar where you can help yourself to an aperitif, before stepping into its Phonotheque, located next door, where a selection of 3000 classic vinyl records await your selection. The great Gatsby vibes continue as you enter into the basement of the hotel to its famous Barfly's Club, one of Vienna's most beloved hangouts. Green marble all over the walls and the sweet smell of American decadence and sophistication abounds here. Expect to lounge in a plush crimson or emerald green velvet upholstered chair, as you sip from a cocktail, long drink, or tumbler. With a little Sinatra playing in the background, you may even overhear a local poet, artist or actor reciting their work. This American bar is a local institution and was one of the early pioneers of this genre in Vienna. The Josefine is a place where the surreal blends with the real. The homemade á là carte breakfast is served daily from 07:00 – 11:00 and on Friday – Sunday from 07:00 – 14:00. After all, it wouldn't be decadent if there wasn't a late breakfast.
Die Josefine Hotel is pretty much like stepping into a time Machine that transports you right back to the roaring 20s. While perhaps lacking in quite as much hanging wall art as some of the other options on this list, we think that her art deco inspired fittings and a liberal dose of surrealism, easily qualifies Josie into the top 5 art hotels in Vienna.
quirky, celebrates Austrian cultural icons, 8th district
If you're an art and culture lover, and you fall on the quirky side of normal (yuk…normal), then there's a pretty good chance that you're going to like the Artist Boutique Hotel. They say they have created a 'world full of art, fantasy and daydreams'. Quite the claim for an establishment whose previous incarnation was as the somewhat industrially named 'Hotel Alpha', and whose primary objective is merely to separate its guests from consciousness for ca 8 hours each night. Yet, for the creative souls among you, Artist Boutique Hotel will likely be appreciated for its rather unique approach to hospitality. Located in Vienna's 8th district, as you walk into the lobby, you're immediately greeted by portraits depicting a who's who of Austrian cultural big hitters (not him!). Each one of the hotel rooms is dedicated to these personalities, from Falco to Freud and everyone in between, and of course, there's room for you in amongst all this. Breakfast is served as standard until 13:00, which immediately makes Artist Boutique Hotel our favourite on this list. They also offer free afternoon pastries and coffee for guests. From 4pm the hotel's cozy Artist Bar invites you to sit by the fire in an oversized velvety couch, listen to (or play) the piano, and indulge in conversation with a fellow traveler, a local artist or even the good old bartender. Cocktails are made on site and provide the ideal accompaniment with which to soak up and appreciate Austria's cultural legacy.
cheapest option on this list, makes you feel old, 2nd district
The final option of our art hotels in Vienna may be stretching the remit somewhat, but we had to include it. Superbude is a relatively new addition to the Viennese hotel scene, having opened its doors in 2021 in the height of the pandemic. Part hotel, part hostel, the rooms here are fresh and different, and carry with them several unique design concepts that we like a lot! Many of its rooms and suites offer options for groups of friends or families traveling together, with either bunk beds or beds lined up in a row, perfect for just crashing on after a night out. Superbude is also the cheapest hotel on this list by some distance, which inherently makes it more accessible to younger travelers than most other hotels of this genre. Superbude have taken great care to cultivate a strong connection to Viennese culture having designed many of their 178 rooms in collaboration with local luminaries, including the FM4 radio station, and the Falter news magazine with its reading rooms. Some of their other themed rooms include a bird's nest, an 'Austropop' studio with a collection of Austrian vinyl (think "Amadeus, Amedeus, A-ma-deus…), a Game City Studio which includes a Nintendo switch + games, and a Cinema studio complete with a projector and a collection of classic Austrian movies (we assume they must be referring to the Schwarzenegger back catalogue here). For aspiring artists, they even offer an 'Artist in Residence' program, as they have decked out one of their larger rooms to also serve as a fully functioning artist's workshop.
Guests can stay for up to 6 weeks and at the end the management are keen to exhibit the produced work within the hotel itself. On the hotel rooftop you'll find Neni am Prater, a Viennese institution serving middle eastern food from Israel. This is where the breakfast buffet is to be attacked, if, of course, you decide to go for that option when booking. There's also a bar up here and both have really cool views over the Prater theme park and across wider Vienna – some of the best views to be found of the city skyline in fact. On the ground floor there's also Cafe Brenner, which serves as the hotel's hub and meeting point.
Vienna's Independent Boutique Hotels - what else to consider...
You may have noticed that none of these hotels are located in the 1st district. This needn't worry anyone, as all are still centrally located thanks to how compact Vienna is. You can walk to all of the main tourist sites comfortably from all of these hotels (apart from Schönbrunn Palace), and in our experience, not being in the 1st district usually makes everything better value and a little more authentically Viennese, not just hotels, but nearby restaurants and shops too. If you don't go for any of these options, but you want to keep the city's main tourist sites within easy walking distance, we recommend staying somewhere within a 20min walk to the Ringstrasse, which outlines the 1st district of Vienna.
In which district should I stay in Vienna?
Which district to stay in will likely be predicated on your choice of Vienna's boutique hotels. If however, the character, style and attractions of a district is equally important to you, then here's a very brief rundown of Vienna's inner districts (i.e 1-9):
1st: old money, expensive, touristy, particularly rude waiters, a bit quiet away from the main tourist spots; 2nd: the other side of the canal, boho, good for Prater and the Danubes; 3rd: embassy district, quite residential, good for Belevedere and Wien Mitte train station;; 4th: good for Karlsplatz, ultra hip, good Asian food; 5th: a bit out of the way, better value but not much to see here; 6th: ultra hip yet also popular with young Viennese families, good for Haus des Meeres and shopping, LGBTQ+ friendly; 7th: ultra hip with loads of hole in the wall bars, the museum district; 8th: old money, small and compact, postcard Vienna; 9th: university and medical district, young, vibrant, closer to the Viennese vineyards up in the 19th.
The best art hotels in Vienna: in conclusion...
So, there you have it, our top 5 art hotels in Vienna to fall in love with/in! There is certainly no shortage of boutique hotels in Vienna, but with this handpicked selection we hope that at least one of these has inspired you. If you liked this, then check out our other rather silly travel blog posts. The one most related to this post is our guide on which of Vienna's art museums to visit.